SOPHIA Series
Other Products

What is Lactobacillus Fermented Extract

Lactobacillus Fermented Extract is formed during the fermentation process. It is not the Lactobacillus in the original form but an undiluted fermented extract that is made from the lactobacillus. It is believed that there are over one hundred trillion Bacteria living with in the intestine, some are distributed from the lower end of the small intestine and into the large intestine all working together in their activities. The intestine of the human body, where all these bacteria are living is often referred to as the Intestinal flora. It can be said that a healthy person's intestine would be more dominated by beneficial bacteria's while a person suffering from health issues would have more harmful bacteria dominating in their intestine. It is often said that one of the best and easiest ways of knowing how healthy you are is by checking ones faeces (bodily waste). Through recent studies conducted it has become known that there are also many other bacteria's that are neither beneficial nor harmful existing within the intestine, but they do change into either beneficial or harmful and this is determined by our daily food consumption, stress levels and environment we live in.
Most people would have heard of lactobacilli bacteria and bifid bacteria. These two bacteria's are known as beneficial bacteria, and function positively with in the intestine. Out of the many existing varieties of different lactobacilli bacteria, we have picked out the ones most beneficial for the human body, and then placed these into soymilk, to allow them to process to ferment and mature to create a much more beneficial, stronger potent substance, we use a specialized Japanese fermenting process to achieve this. In our everyday lives, when we go threw emotions such as love, hate, the body will react by sweating, flustering, as out hormones work in a way to release tension, for the bacteria living in the intestine it is similar, as they work and function wit in our intestine dependent on change they can create different outcomes. One of the outcomes such as this is with the lactobacillus fermented extract.
Basically by this, we are creating a similar environment to the intestine of a healthy person. When we analyse the lactobacillus fermented extract, we notice other beneficial needed compounds such as amino acid, vitamin, minerals which are all essential for growth and nutrition. From our internal intestine wall, the beneficial nutrients are taken threw our blood streams and used with in our bodies to give us life and energy. As Lactobacillus fermented extract is not the same as live lactobacillus bacteria, when consumed there will be no issues with in the stomach with gastric acid forming and irritableness, and will go directly into the intestine and be easily absorbed, then able to assist and boost the immune system to get stronger and will help the body in many positive ways.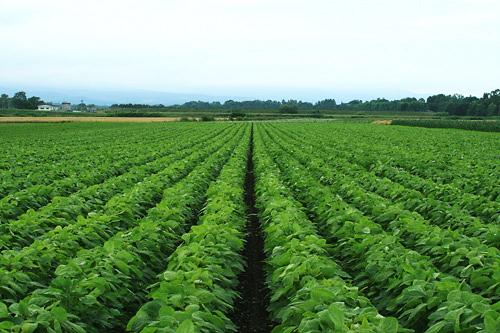 Our product Sophia, lactobacillus fermented extract product is made from organic chemical free soya beans grown naturally in Hokaido. The Soybeans are made into a soymilk culture to which the carefully picked 16 different types of lactobacillus beneficial bacteria are placed to ferment and mature to get the best results.

Lactobacillus fermented extract and Adiponectin

Lactobacillus fermented extract stimulates and increases the adiponectin, which is a protein hormone formed within the human body's intestine fat cells. Adiponectin is a type of protein hormone that is developed with in the fat cells of humans and animals. It was discovered for the first time in the world, in 1996 by a research team from the Graduate School of Medicine Osaka University, and since the discovery it has gained immense interest, covered by media, and there are many ongoing researches as it can effect gene structure, obesity, too much fats in the blood and many other chronic issues and diseases.
The below is a part of the report we presented at the conference held in Kyoto in May 2007 for the Japan society of nutrition and food science.
An experiment was conducted using subject rats viscereal fat cells, lactobacillus fermented extract was added, then each two days additional amounts were added while tests were conducted to check at what rate the adiponectin had increased, and as a result the adiponectin quantity had increased by 220% compared to the original amount. From this result, it is apparent that the soybean produced lactobacillus fermented extract has the ability to increase the quantity of adiponectin. There has never before been another consumable product that has been tested where adiponectin quantity has increased such as this.
We are not stating that our product, Super Sophia contains adeponectin, but that when Super Sophia is consumed and enters the body, it has an effect on the fat cells on the walls of our intestine by stimulating them to then increase the adeponectin, for example from previous studies done, when comparing between people that are not taking our product, there is a 220% over double the amount of adeponectin exisiting in the bodies of the people that are taking our product.
We would now like to look further into how Adeponectin functions
A hormone of "Adiponectin" was first characterized in 1996 in the world by Dr.Yuzi Matuzawa form a research group of Osaka University medical department and now it is known as induced for the Metabolic syndrome.
Adeponectin is a protein hormone discovered in 1996 by professor, Dr Matsuzawashi and his research team at the Graduate school of Medicine Osaka University. It has been called the savior for metabolic syndrome and is gaining a lot of media attention around the world.
According to professor, Dr Takeshi Kadowaki professor at the Graduate school of Medicine at the University of Tokyo and the Director of University of Tokyo Hospital, who has continuously been researching adeponictin, and from experiments done on mice, the results have been that a mice with type 2 diabetes, is insulin resistant and due to a very high fat diet, obese and has hyperlipidemia (excessive fat in the blood), as adebonectin is a special protein hormone that can be released from the fat cells by increasing the quantity the above problems were able to be resolved. This and other experiments and studies done by Dr Kadowaki has been previously published in the Sankei news paper and some others.
Dr Kadowaki has also been researching into the relation between adeponictin and longevity. In the laboratories of professor Kadowaki he was able to pin point that adeponectin develops the longevity gene Sirtuin increases the Mitochondria, and encourages and boosts the activities. The experiments and studies was published in 2010 in the British publication, Nature magazine.
Mitochondria is known for producing energy with in the cells and as the energy level intensifies it encourages longevity. Dr Kadowaki has proved that adeponectin the source of this theory and is the key to longevity.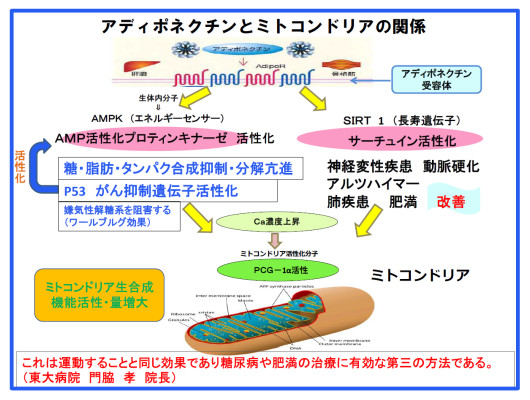 The research team, through their extensive research till now have been able to detect changes that have occurred in the muscular cells. This is due to, when the adeponectin goes on the surface of the cell, the mitochondria reacts positively and increases its function and activity.(this is from a network web site for people suffering from diabetes and professionals working in the field.)
According to studies and research done by Dr Arai Yasumichi and team from the Medical faculty at Keio University, when they did a case study on the 100 year olds and above living in Japan, and tested 500 of them on the quantity of adeponectin within their bodies, the result was that on average in a person the quantity is around 5 to 10mg, but with these elderly people their quantity was double the average amount of 20mg, and that these elderly had a very low diabetes rate of only 6%. (it is known that people in their 70's have a diabetes risk rate of 20 to 30%) there for it is proof that a high rate of adeponectin in the body means longevity , less illnesses as proven by these over 100 year olds that are living very healthily.
Dr Okabe, from the Japan Diabetic society has said that Adebonectin being a protein hormone, if taken directly as a supplement or medicine it will simply dissolve and not be useful. Pharmaceutical companies around the world are trying to be the first to be able to bring out a medicine that will increase adeponectin.
As proven by the research done by Dr Kadowaki, that adeponectin stimulates the function and increases mitcondoria, our Sophia series products threw research has shown that it can boost growth and numbers of adepoectin and by this it can be said that Sophia products develop the mitochondria.
Mitochondria, as a cell in our bodies is the energy source to keep us functioning in our everyday lives. It is proven that if the mitochondria is not functioning well and weak it will lead to many chronic illnesses, if it is possible to support and develop the mitochondria it will work as a prevention of such illnesses.