Lactobacillus Fermented Extract for the care of animals.

Over the past several years, in our country having a pet companion has become normality and these pets usually have their place in the home as a member of the family.
People find comfort, love and joy in living with their pets and the companionship means the world to them.
Unfortunately pets can also suffer from chronic diseases and issues just like people.
It was then that we realized that just like people with lactobacillus fermented extract animals suffering from such issues as hyperlipidemia, pain with the joints, mobility products, can be treated to better health and issues prevented.
We are working very closely with veterinary hospitals and our products are increasing in demand around Japan and appreciated with the pet owners.
Our products which have been made especially for animals is sold through veterinary hospitals, and gaining popularity by people to use daily for their beloved companions, but also our Sophia series of products for people have been utilized by vets for sick animals needing treatment and has proven very positively with great results.
We intend on continuing the growth and working on taking care of people's beloved companions.
SOPHIA Series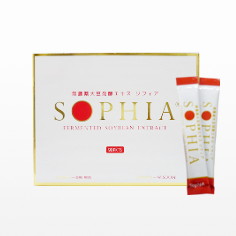 This lactobacillus fermented extract supplement is based on the Super Sophia product but made in granule form and individually packed. It contains Cyclodextrin and Fructose, which once consumed assists the body in increasing beneficial bacteria, which assists the stomach and intestine area to function by maintaining the balance of the system. As it is in granule form, with a good flavor, it is very easy to consume straight out of the packet.
SUPER SOPHIA MILD
Liquid
60mL x 1 bottle
60mL x 5 bottles
This supplement contains 95% of undiluted lactobacillus fermented extract, is made with 16 different types of lactobacillus bacteria. Including amino acids, minerals and vitamins, this supplement assists the stomach and intestine activities by giving support to balance the system. It is best consumed mixed with water or juices. "SUPER SOPHIA MILD" is extracted sour tastes deliciously for animals.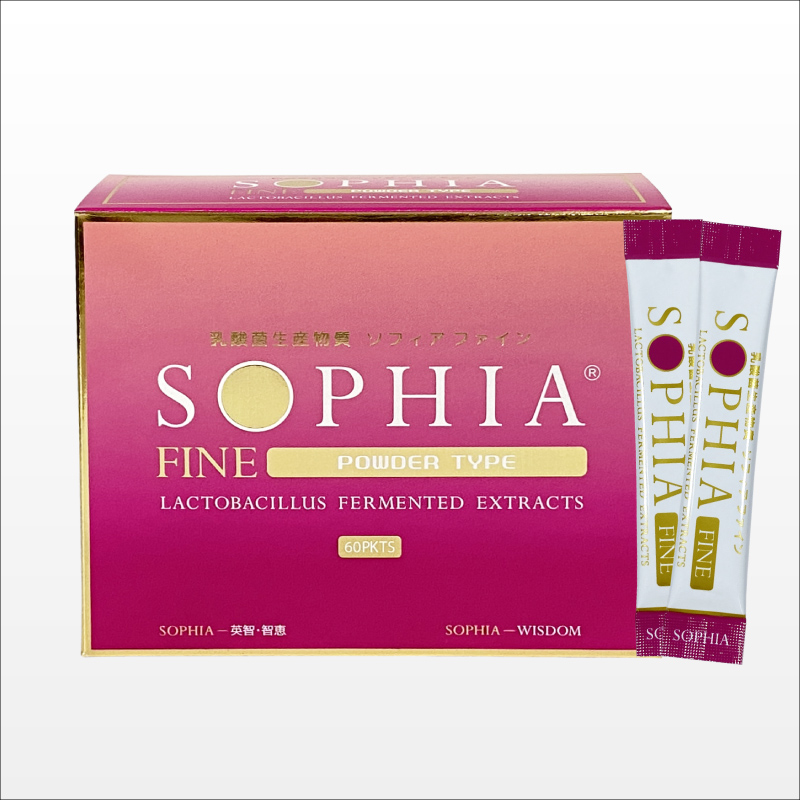 This lactobacillus fermented extract supplement in granule form, contains ingredients such as Crocetin, Acai berry and Cassis, which contain needed antioxides. To those who use a personal computer and a smart phone, and whose eye sight is not quite satisfactory. This supplement support clear eye sight everyday.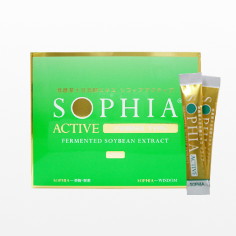 Like the Super Sophia, this supplement is made from 16 different types of dead cells of lactobacillus, is in granule form and individually packed. This product focuses on balancing the immune system to prevent unwanted bacteria entering the body, which can cause infections and allergic reactions. Sour tastes are extracted for child.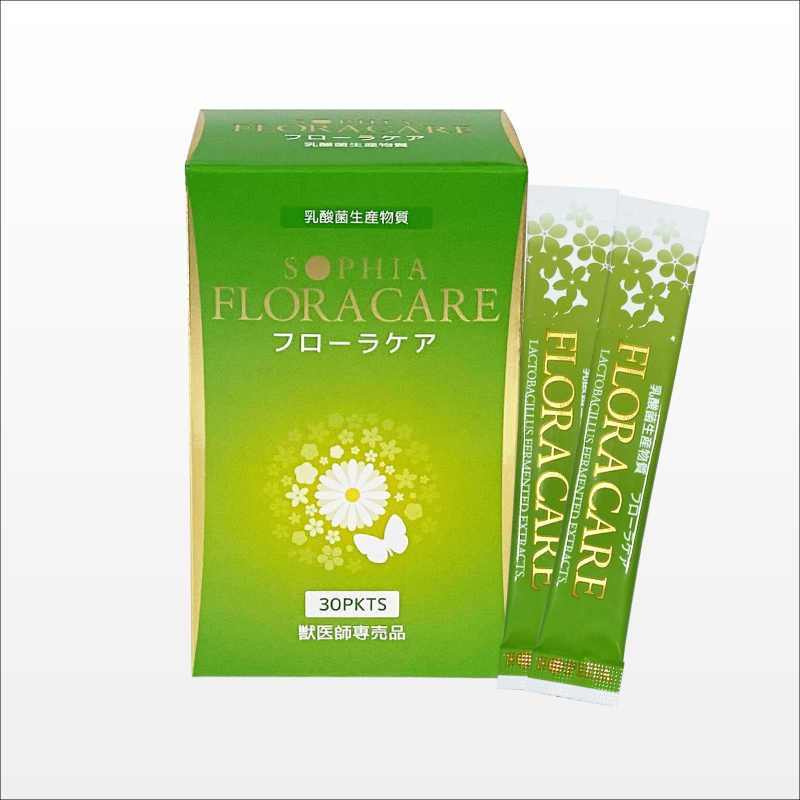 This lactobacillus fermented extract supplement in granule form, is only for animals which assists the stomach and intestine activities. Sour tastes such as Lemon-like spice and Citric acid are extracted deliciously from Sophia Active, and raise the palatability for a dog, a cat, and an exotic animal and others. This assists the intestine area, the skin, and balancing the immune system.
Other Products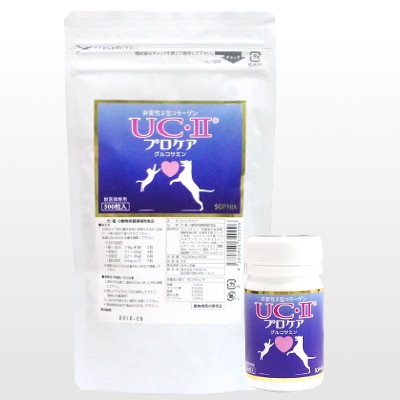 UC・II PROCARE
Pill
120 pills for a bottle
500 pills for a bag
Developed at Harvard Medical School, Harvard University, this supplement by combining lactobacillus fermented extract (Sophia) which supports and boosts the immune system and undenatured type-II collagen, which will be absolved better due to the combination, also including natural plant sourced glucosamine, giving extra support to the muscles by releasing Astaxanthin and care to these related condition. Very beneficial for pets suffering from issues with their joints or lower body area, or help with the natural slowing down due to old age. Based on the Re-Bright supplement product for human consumption, the UC・II Procare has been modified and has a flavor of chicken for easier consumption for pets.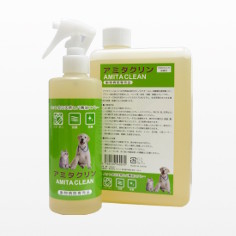 AMITA CLEAN
Liquid
300ml spray type
100ml refill type
This product which has been made especially with our pets in mind, combining lactobacillus fermented extract with natural organic Hinoki oil (Hinokitiol) extracted from the Aomori Hiba Tree, and Rosemary, is a natural disinfectant spray, can be sprayed directly on the coats of our pets, working as a insect and pest repellant, and getting rid of bad odors. It is useful in the everyday care of our beloved pets but can also be utilized in our everyday life at home or anywhere to keep our daily living space free of germs and keeping it hygienic.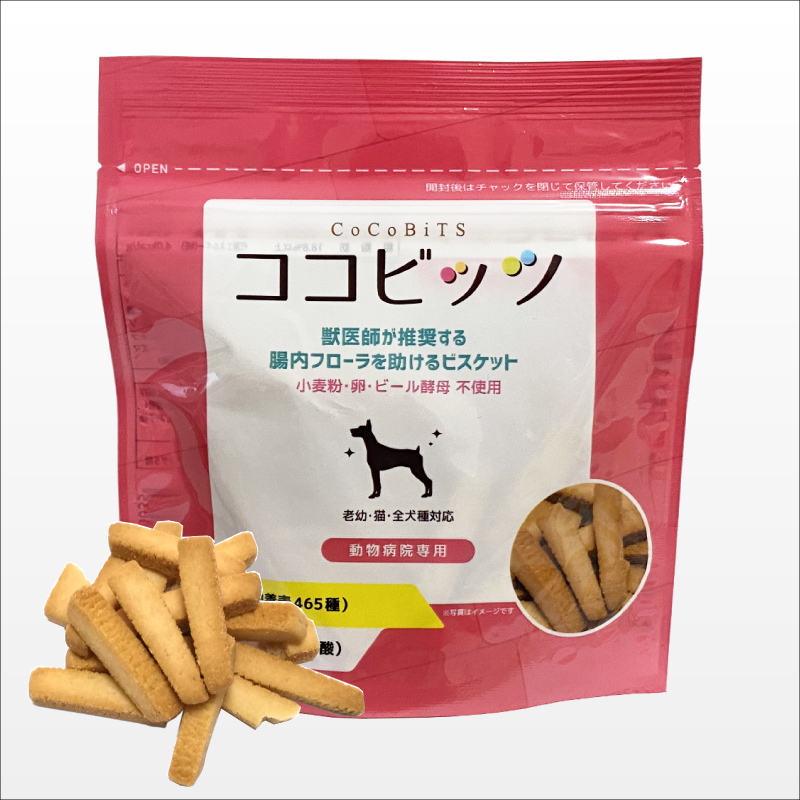 "CoCoBiTS" is lactobacillus fermented extract supplement for pets of veterinarian supervision in biscuit form. This contains many natural materials selected carefully, low allergen and zero trans-fatty acid. This contains unbleached and the highest grade coconut. The palatability is raised and easily broken into small pieces so that small dogs etc. can eat well.